We probably all love to hide the cat litter box. After all, who wants visitors to see the daily ablutions of our furry pal. With modern living and smaller living spaces, it is sometimes difficult to find that out of the way hiding place for the litter box. So what about hiding your litter box in plain sight with a stylish piece of litter box furniture. Enter the top entry litter cabinet from Modernist Cat which is a smart cabinet to hide your litter box.
The Top Entry Litter Cabinet from Modernist Cat
If you have wondered about top entry litter boxes then this cabinet might help you decide in favor. This is a handmade cabinet with a top entry design which eliminates litter tracking over your floors. It is very mid century modern and I bet that if you put this in your lounge, no-one will know that it houses a litter box. This litter box cabinet really would not look out of place in any modern house or apartment.
It is made from a hardwood Europly with a walnut or maple finish. And it is so well made that the manufacturer has used hidden mortise and tenon joints so it is a smart, sleek and seamless box. Furthermore, the wood veneer is sealed so that it is water resistant in case of any little kitty mishaps. Each cabinet also comes with 2 interchangeable colored tops so you can change the look when you want.
The tops come in a charcoal and a white finish and both have your selected wood finish on the reverse side. So you get three different looks to your cabinet.
It is great for keeping litter inside the box and dogs and toddlers outside the box.
Do Cats Like a Top Entry Litter Box?
For most cats, a top entry litter box is completely different to the litter pan they are usually used to. Therefore it might take a little bit of training to get them used to using this cabinet.
Modernist Cat has however, worked around this is by designing the litter cabinet with a built-in training system. How it works is that initially the top panel can be placed at a lower height from the top of the box. Over time once your cat gets used to the lower height you can slowly raise the height of the lid. Your cat will then adapt to the new height change. It is a simple but clever idea.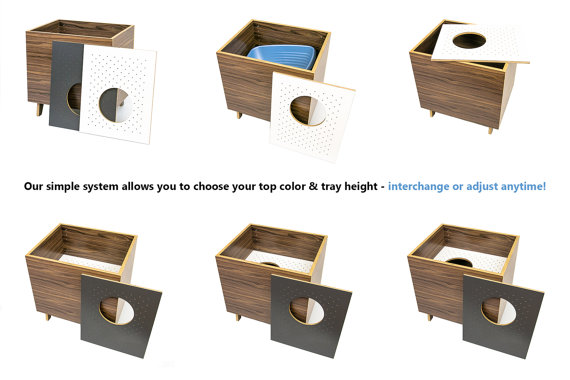 The actual entrance hole is 8 inches in diameter which should be big enough for even the largest cats. But give your cat a measure around their girth if you do have a tubby cat. It can, however, cope with cats up to about 18 pounds in weight. And the top entry design does allow cats and kittens to stand upright and have plenty of headroom whilst going to the toilet.
Spec
Sizewise the Modernist Cat Top Entry Litter Cabinet was designed to hold a Clevercat top entry litter pan. The rest of the dimensions are as follows:
Exterior: 22½"L x 18½"W x 22½"H
Interior: 21″L x 17″W x 16¼"H
Removable legs: 4″H
However, the inside of the cabinet does need to house a standard litter pan and Modernist cat recommends the following:
Petmate Stay Fresh JUMBO Pan: 21″L x 16¾"W x 6½"H, front edge 5½"H
Petmate Stay Fresh Hi-Back Pan: 19½"L x 16½"W x 9½"H, front edge 5¾"H
Iris Open Top Cat Litter Pan: 19″L x 15″W x 12″H, front edge 6″H
Overall, this is a really nice piece of furniture and perfect for hiding your litter box in plain sight. And the training idea is a clever addition. It can be more expensive than a standard top entry litter box but really this is an actual piece of handmade furniture so there can be no comparison in that regard.
If you are interested in seeing more about the Modernist Cat Top Entry Litter Cabinet then it is currently available here on Etsy.