A group of cat lovers recently got together to try and create a brand new cat carrier. What they have come up with is an ergonomic pet carrier that resembles a space ship. This is your first look at Waul, a brand new modern cat carrier which is currently being promoted here on Kickstarter so that the company can raise funds to create their cat carrier.
Waul was created after the company starter got a Devon Rex cat named Marvin. They immediately realised that there is a bit of a hole in the cat carrier market. Most carriers are boring plastic shaped boxes with a grill on the front. These guys wanted something a little different for their little alien. And so Waul, a space ship looking carrier was born.

How Waul Differs from Other Pet Carriers.
You probably have had a number of pet carriers over the years. And if you are like me then you find that you constantly hit your legs with them. They are also heavy to carry, especially if you have a rather chunky cat (I am keeping away from the word 'fat' as Dyson takes offence at being called a bit chubby). Plus, as I found when I took Dyson to the vet last year, the front grille provides no privacy. Yes, I did growl at the small child who kept trying to poke their fingers through the grille completely freaking Dyson out.
The makers of Waul came to the same conclusion and therefore, decided to try and create a pet carrier which would improve the quality of pet transportation. So far they have a working prototype that is looking for backers on Kickstarter with the hope to start shipping Waul out to backers in November 2017.
They took a few different ideas and then worked on each of them.
Futuristic Design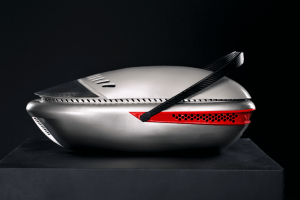 The design has been inspired by future transport and was developed by two designers over three months. They have kept both pets needs and your needs at the core of their design though. This carrier is a hard design as they felt it was easier to clean if your cat had an accident. Plus it was safer if a cat (or dog) tried to claw or chew their way out. Looking at the carrier from the side I think it looks like a cross between a shark and a space ship.
Ergonomics
This cat carrier was constructed to be comfortable to carry. It has a curved body which helps you to move freely and it does not bash into your legs. The shape is also good for if you have to put a seat belt on the carrier. Waul also had a top loading door which a wide opening and secure latch as that makes loading and unloading your cat easy and quick. It also means that your cat has safety and security plus can see outside and have plenty of ventilation.
Cat Comfort
This is very important as your cat is probably pretty stressed when being transported in a carrier. Therefore, Waul has a layout where your cat can hide and yet still see their surroundings through a transparent window. All without being spotted or disturbed by people outside. Small children will not be able to poke your cat through the bars.
What Else Do You Get in a Waul
You do get these other features in the Waul…
Entertainment. There is a built-in toy which imitates a pilot cockpit dashboard allowing your cat to play during transport.
Non-Toxic and non allergenic plastics have been used in the build.
You get a soft blanket included
The final product will also be designed slightly larger than the prototype. So it should fit a cat that weighs up to 20 pounds. The dimensions will be 22.8 inches in length by 11.8 inches in width and 12.5 inches high. It also weighs in at 3.8 pounds.
[thrive_link color='red' link='http://Xu7AUont.kckb.st' target='_blank' size='big' align='aligncenter']Click Here to Back the Waul on KickStarter[/thrive_link]