Every household needs a good cat tree. Not only do they keep your cat occupied and let them climb and explore, but they also save your furniture. Here, we highlight some of the best cat trees that we have found.
As you are probably aware, cats love to climb and they need to keep active for health reasons. A purposely built cat tree allows your cat the fun of climbing and often adds extra sleeping areas. This may save your curtains from being climbed up, or your furniture from being scratched.
Cat trees come in many different sizes, from small (about 40 inches high), through medium (about 5 foot) and large (over 5 foot).
Best Small Cat Trees
Our Best Cat Trees search found these which were up to 40 inches in height.
Pet Pals Cat Perch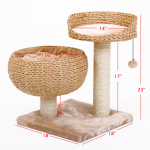 With a maximum height of just 23 inches, the Pet Pals Cat Perch is a contemporary looking piece of kitty sleeping heaven. Made from natural materials such as woven paper rope for the perches and basket, and sisal for the poles. This is an eco-friendly cat tree which looks good. The sleeping areas are covered in a thick fleecy material as well making the Pet Pals Cat Perch a very comfortable item.
It scored 8.9 in our review and it comes in two modern looks – a natural beige and in white and black.
Kitty Ball Bed by Refined Feline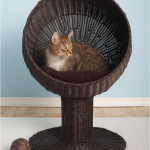 This is a simple one level cat tree which doubles as a cat bed. It has a maximum height of 28 inches and consists of one large dome over a short stem. The dome is raised 11 inches off the floor and is 17 inches in diameter.
The cat tree is made from a non toxic poly-rattan. This is a durable material which withstands clawing, meaning that your cat furniture always looks good. It comes with a comfy cushion and is simple to put together. It scored 8.5 in our review.
Best Large Cat Trees
Cat trees in this section will be over 5 foot in height.
Refined Feline Lotus Cat Tower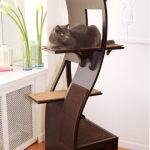 Maximum height of this cat tower is almost 6 foot. With 3 large platforms (one a large curved sleeping area) and a large cubby hole this is, therefore, perfect for large cats. The Refined Feline Lotus Cat Tower is a graceful and very elegant piece of cat furniture that will not be out of place in any modern home.
It is made from ply with an oak veneer which makes it strong and very sturdy. The platforms are covered in removable carpet and there is also a faux suede cushion for inside the cubby hole. This cat tree is also perfect for climbing and for allowing cats to sleep high up. It has three different platforms therefore making it a good buy for multi cat households.
Overall, the Refined Feline Lotus Cat Tower stored a respectable 8.7 out of 10 in our in-depth review.