It's the start of a new year here at Cool Stuff for Cats with a lot more cool cat products to come this year. But last year was a great year with some new and innovative products as well as old favorites. So lets have a look at some of the most popular cat products for 2016 here at Cool Stuff for Cats.
In toys, the CatIt Senses circuits have been around for a good few years but they have recently undergone a revamp. Now they have more pieces so that you can make even more fun and interesting circuits for your cats. And they have still kept their modular nature as you can buy multiple boxes and build extensive toy tracks. The CatIt Senses 2.0 range is a pretty big hit with my kitten. Have a look at our review on the CatIt Senses 2.0 Super Circuit.
[columns_row width="half"]
[column]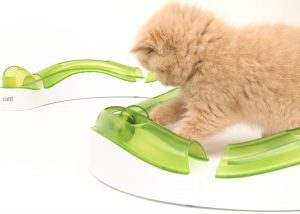 [/column]
[column]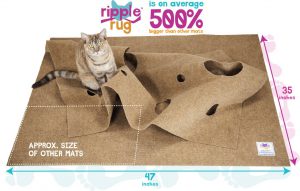 [/column]
[/columns_row]
Also in toys we got an innovative new product this year in the Ripple Rug. This is a great puzzle toy that my cats immediately loved and has so much replayability value. This is a complete cat activity mat which allows you to change the configuration of tunnels and mounds regularly so that your cat does not get bored. Dangle a wand through the holes in the tunnels and it will give you endless of hours of fun playing with your cat. And if you have two cats it is amusing watching them chase and play with each other through the tunnels. We reviewed the Ripple Rug here.
Cat Scratchers
Cat scratching posts are always popular and this year the Ultimate Cat Scratching Post from Smartcat has remained a Best Seller on Amazon. At a whopping 32 inches in height it allows your kitty to get a great scratching experience whilst allowing them to stretch out and flex their muscles. Made from sisal, its very durable and a great furniture saver. I reviewed the Smartcat Ultimate Scratching Post back in the summer.
Cardboard cat scratchers though have started to make an appearance in the cat product market. They are fantastic because they often use recyclable materials so are great for an environmentally conscious household. One of the nicest we had seen this year was by Charley and Billie, a small independent manufacturer who sells on Etsy. Take a look here at the fantastic looks of these cat scratchers – if a scratching post could be a work of art then these fit the bill.
[columns_row width="half"]
[column]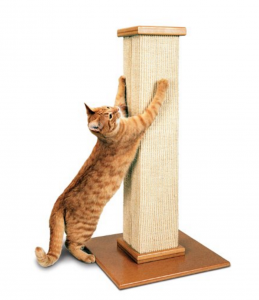 [/column]
[column]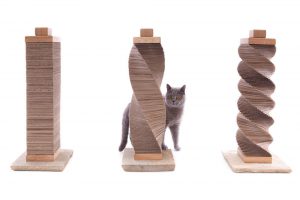 [/column]
[/columns_row]
Cat Trees
Cat trees and cat condos are always popular cat products. After all we love to see our cats climb and enjoy themselves and we prefer they climb over a cat tree rather than our curtains. Manufacturers have started to come up with beautiful designs that really fit into our house decor. The shabby carpet covered and ripped cat tree is a thing of the past. They are now made out of a variety of woods, sisal, seagrass and come in a variety of beautiful designs.
Our favorite of the year was the Refined Feline Lotus Tower with its beautiful Japanese themed lines. Made from stained hardwoods and at about six foot tall this would look great in any household. Plus, the platforms were large enough for any cat to lounge about happily. You can take a look at the Refined Feline Lotus Tower in our review.
But cat trees have also moved away from the standard upright cat tree over the last few years. CatastrophiCreations for example have created this great range of wall mounted platforms and hammocks. This gives you more floor space but gives your cat a lot more climbing space. These are distinctly modern and great for multiple cat households.
And finally, in cat trees. we have modular cat trees. These resemble building blocks and you can buy either a set or individual blocks and then make your own designs. Some of these can also double as bookcases. Katris has created an interesting set of blocks in different colors which will fit into any home and they also create individual blocks. See our overview here.
[columns_row width="third"]
[column]
[/column]
[column]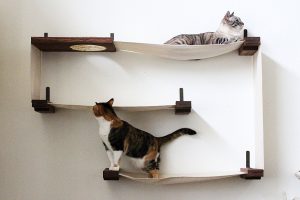 [/column]
[column]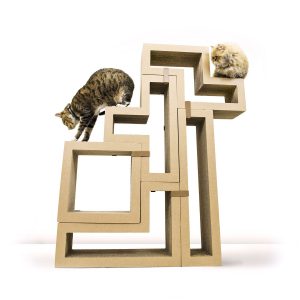 [/column]
[/columns_row]
New Designs in Litter Boxes
Nobody every really gets excited by the thought of cat litter but there is now a better trend in hiding cat litter boxes. No longer do you only have the option of a simple tray which is always out in plain sight. Recently we have started to see the emergence of top entry litter boxes such as the Modkat which are sleek designs that do not resemble standard litter trays. They make it easier to hide your litter box especially if you do not have a lot of floor space.
[columns_row width="half"]
[column]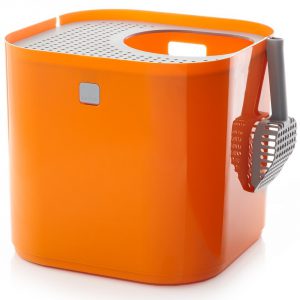 [/column]
[column]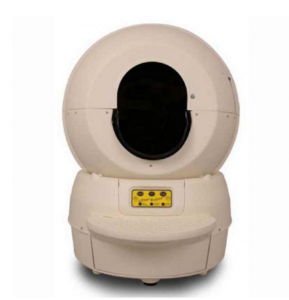 [/column]
[/columns_row]
Self cleaning litter boxes are a more expensive alternative to hiding your litter box but these automatic litter boxes are great for busy households. The Litter Robot LRII has been a big hit over the years and now there is a new Litter Robot. The Litter Robot LRIII is designed to have a larger opening space and handle extra large cats and is currently selling on Amazon.
And Finally…
Finally we finish with probably the coolest product that we found this year…
The Ludipuss Cat Tank
The concept, design and workmanship that went into this product was phenomenal. It's a scratching post, a cat condo, a play and activity area all in one – and it is a tank. Have a look at our review of the Cat Tank here.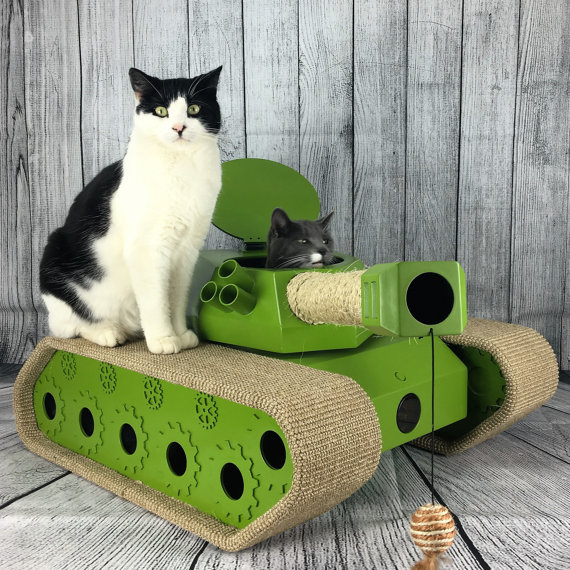 Hopefully there will be some fun and cool new products in the next year. Happy New Year from all of us at Cool Stuff for Cats.